In this blog, I am going to talk about how you can learn the tricks of savvy eCommerce stores, and get some tricks for size analysis and how to determine the life of a product.
I love to shop. It's in my DNA, I like the frill of the chase. The feeling of getting a bargain, the feeling of winning, of saving money, or of getting something unique. I like to abandon my cart with new eCommerce websites that I find, to see if they retarget me & offer me a discount to make my purchase. Another thing I enjoy is predicting when something will go on sale. My strategy for this is to review the availability of sizes, then to check if there is an abundance of the same thing in the rest of the market. I'm usually pretty good at determining if it's going to go on sale or not, I am also freakishly patient at shopping, so will happily wait. I have been known to wait for 12 months for a product to drop to my price range. My favourite stores are the ones that can beat me on my strategy. The ones that have managed to balance their risky fashion purchases vs. their core everyday purchases. The ones that I know I will have to buy at full price because I can tell that the products they have brought will sell out in 1 day, 1 week, 1 month; whatever the life of product they have decided. That smart buying makes it tough for me. But it also drives demand, and for me, respect. In order to keep these savvy shoppers, you need to understand the life of products that you stock. Is a product going to last the test of a trend? Is a trend going to be done in a month, or is it more sustainable? You need to know how to pick it. Sites like WGSN, Refinery29, High Snobiety are great for inspiration & details on trend.
As a professional working in inventory management the number one complaints that I hear, is that my clients are selling out of certain sizes too quickly, and they are left with broken inventory or random sizes. As a former Merchandise Planner, Buyer and Merchandiser, key to my success were optimizing the size curve for the buyer. You'll never get this 100% accurate, as you don't have a crystal ball. But you can get this to around 90 – 95% accuracy by using historical data & learning when and why to look at the data at these points.
My first tip is to look at the history of a product at around 60 – 70% sell through. Look for the balance by size in the sell-through; i.e. are they all at a similar sell-through rate? If the answer is no – read on. If you have an average rate of 70% sell through, but you have some sizes at 40% i.e. too low, or some sizes at 90%+ i.e. too high.
Look at the below example of the buy:
All sizes were bought quite flat; assuming that they would sell at the same rate.
But as you can see; in this case, Large was the key size, but was only the second highest buy-in units.
So the sales rate of sale differed to the buy curve, you can also see that the liquidation or sell through varied by size: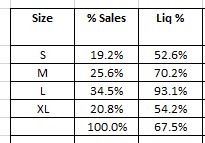 The large size picked up sales of nearly 10% more than the buy, therefore this will sell out much faster than the other sizes & eventually lead to broken inventory and disappointed customers.
I would, therefore, review these factors – Liquidation and the actual sales curve to get the below buy curve for future buys: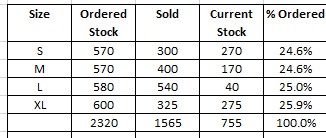 I calculated this =((Ordered Stock * % Sales)*Liq %), I would then look at this and decide if I was happy with such a heavy weighting in favour of the size large, and what this would mean for units ordered. I would also review other factors historically, such as colour. Darker base colours might be preferable in larger sizes, whereas lighter colour bases could be preferable in smaller sizes. Data is your friend when making these choices or decisions. Also reviewing promotions that you had during any of the sales periods, that could have falsified data, or if you sell via multiple channels such as Amazon, Shopify and a Bricks & Mortar store, were any of them over or understocked. Factors to the sales are your friend when making decisions.
You need to have a good look at multiple SKUs or styles to make the call. Eventually, you'll be able to rely more on gut feel, combined with sales history to make an informed decision. It's also not a bad thing to seek outside help in making decisions on inventory. Remember that people make complete careers out of inventory management.  Speaking of which; I now run a Retail Consulting business, I specialize in Inventory Management and OTB – or Open to Buy maximization. Helping businesses to get the most out of their stock to maximize sales.
This Post was written buy Zoey Hopkins, you can find Zoey's site and contact details here